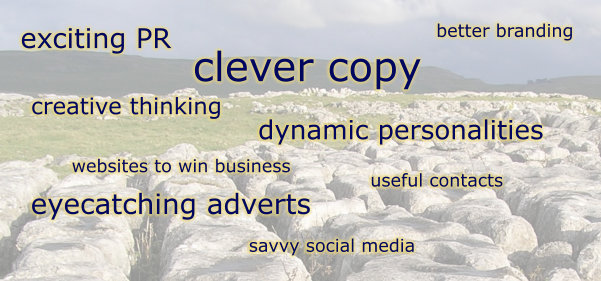 Grabbing attention for your business
We think marketing is fun and we'll share that energy and enthusiasm to drive your business forward while you concentrate on running it.

There are many ways to shout about your business and developing an integrated marketing strategy with many threads of activity is  key to raising your profile. If you only focus on any one individual marketing method and expect it to work in isolation, you are likely to be disappointed, so we get lots of balls in the air for you and keep them there.
If you are busy actually running your business then it's unlikely that you can do justice to your marketing plans without some  help to make it happen. You're also probably not an expert and DIY marketing is always going to have that amateurish feel. Harsh but true.
You know your business better than anyone though, so your ideas are a valuable part of the marketing mix. Our ideal client is one that shares his or her aspirations for their business with us as we turn creative ideas into reality to engage existing customers and attract new ones.

Work with us and we'll make sure that your marketing messages are clear and reaching the right people at the right time and in the right place to take your business to the next level. 

Check out our range of services and get in touch to see how we can help.



Why not join us for one of our training courses at Airedale Enterprise Services and Settle Community & Business Hub? Click here for details of upcoming dates for workshops on PR and Integrated Marketing.

Jane was thrilled to be shortlisted for the National Women in Business Awards 2015. Read more…
Let's hear about you…
We like to speak to real people and I'm guessing you might too, so why not call us first. Or if it's the middle of the night, maybe an email?
01756 720034
jane@manifestmarketing.co.uk
Marketing Blitz
A full day one-to-one interactive consultancy session: where you are, where you want to be, and the marketing means to get you there. This inspirational overview is full of refreshing insights for all businesses to develop a practical marketing action plan.
It can be tough starting a new business. If you are a small startup or an emerging brand the cost for this comprehensive consultancy session  is  £250+vat

For larger, more established brands and businesses the cost is £295+vat

All firms, large or small, are refunded the full amount if they choose to work with Manifest Marketing on any activity outlined in their new marketing plan.